Associations
Association for help of children with autism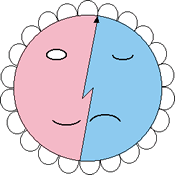 For the first time in the Republic of Macedonia in 1995 in Struga during the seminar about the children with autism, an association for help of children with autism, was founded. Until 1998 this association has not been active, and would be preregistrated at the court registry and put in evidence.
Today's Association for help of children with autism is reformed on 12 of January 1999 year at the initiative of the part of it's members, other parents and specialists-enthusiastic who treated the children with mental handicap for a long time.
At the very beginning have been posed the main goals and assignment of the Association, which can be put in four areas.
•    First, taking the activities for integration the autistic children on time, with propriety educational treatment, as giving support to the families exposed to a chronic stress.
•    Second, right choice of medicamentous treatment with drugs, diets, etc., which will influence positive and on time at the autism clinical characteristics, and will help on faster and better socialization of these children.
•    Third area is most important for popularization of the problem "Autism" through different lectures, TV, propaganda material, only with one purpose to find out these children on time.
In the fourth area main is issue of science – research work here in the Macedonia and in the world, then following all new world reaches in the area of autism and taking an active part on this plan.
The main goal of the Association is opening a daily center in Skopje and preparing a registry for evidence of all autistic children in the Republic of Macedonia.
The headquarters of the Association for help of children with autism is at the Institute of Special Education and Rehabilitation, Faculty of Philosophy, bull. "Krste Misirkov" b.b.
Contact person is the president of association; Phone: +389 91 2775 411
President of the Association,
Tanja Pankovska